If you are searching for how to start a blog, then you must be planning to start a blog. If it is so, let's start a blog right now.
Yes, you can start a blog even in 2020 because blogging is one of the easiest ways to share information and knowledge with the global audience.
Blogging is easy only if you have a decent level of knowledge in certain topics and ability to write correctly.
Sometimes a paragraph can be more informative than a YouTube video which is extended to 10 minutes to put multiple advertisements.
While writing a blog you have to take care of various aspects. This includes search volume, relevancy, intent, reader friendliness, etc.
Elongated sentences, use of jargons and thousands of words does not make a blog superior and qualitative.
What is Blog ?
Before diving into a deep sea of blogging, I must ask two questions. One is "What do you know about Blog?" and "Why do you want to start a blog?"
So, Do you know what is Blog and what is Blogging?
First of all, let me clarify to you the differences between a blog and a website.
A website is a dynamic or static page where you will see very few timely changes.
Websites are generally created to represent any business, products, or services.
For example, when you visit a web-hosting site such as Kinsta, on the landing page, you will see the list of offered managed WordPress hosting plans.
The landing page remains almost unchanged except when they introduce new plans or seasonal offers.
A blog must have motive of providing detailed information on a certain topic or on multiple topics.
If a blog covers multi topics, it is necessary to categorize and re-categorize them to make it easy for readers to find exactly what they want.
The standard identity of a blog is that the most recently published posts should appear just below the header and navigation or at least on the landing page.
But this does not entirely means that a website and a blog are completely different.
A blog can be a part of a website but websites are not the part of a blog.
To illustrate this let's take an example of Kinsta itself.
Kinst on the landing page contains a static webpage which is no doubt is a Business Website.
But, have you ever noticed that, it has already published almost 600 blogs?
You can look at the following sitemap of Kinsta's Blog which contains 595 URLs.
I hope you got the idea behind a website and a blog.
So, if you are making a site which resembles with above mentioned features of this is called a Blog.
And the process of making a site and publishing your content is known as blogging.
Therefore, in general we can state blogging as way to build your blog and start sharing your knowledge on particular topics.
In practice what you are reading is a blog and what homework I did before publishing this blog and what I do for the betterment after publishing it is Blogging.
When Should You Start a Blog?
Well, there is no exact conditions and time frame to start a Blog.
You can start a Blog at any time and age you like.
The most important condition is you must have a good level or expert level knowledge on the niche you want to write.
Moreover, time availability is another factor to impact to start a Blog.
At last what I can say is if you have decent level of knowledge on certain topics and time for writing on it, you can start a Blog at any age or conditions.
Why Should You Start a Blog?
The purpose for starting a Blog may vary from person to person. Some may want to earn from it and some may learn from it.
I will list the common purpose someone want to start a Blog below.
Identify yourself among them and follow relevant instructions.
Earn Passive Income
Brand Blogging (Personal/Impersonal Branding)
Learn or Enhance Knowledge
Utilize The Free Time
Earn Passive Income
Majority of people want to start a Blog to earn passive income.
This goal can be achieved by publishing blogs and showing advertisement or selling affiliates products or selling own products to the traffic driven.
People who have motive of only generating passive income from a blog generally prefer to write on multiple niche.
These kinds of Blogs, generally provides a surface knowledge and more often targeted on viral and trending topics only.
Blogging For Brand
If the primary motive of starting a Blog is Branding followed by passive income generation, this is called Brand Blogging.
If you have advance or expert level Knowledge on something, this might help you to establish a Branded Blog.
To be more specific, let me take Mr. X, who writes Blogs on his childhood memories, current status, travel blog etc.
Suppose, he decides to write a Blog on how he migrated his Blogger Blog to WordPress, and even ranks at first on google.
When visitor like me read that blog and find no more content related to that topic won't try remembering it for future use.
But if the same thing is read at WP beginner or Kinsta, he might even bookmark it. Because, they are having a classified and branded content on their Blogs.
So, the Blogs with capacity of visitor attraction will be remembered and consequently turns to a identifiable brand.
Learning and Self Enhancement Blogs
This kinds of Blogs are started by those who have no intention of earning further.
Because, earning from a Blog is not going to fulfill their need to buy a $21,000 music system for their $5 million Lamborghini.
Meaning, those who are rich enough with their identity may still want to start a Blog to share their experiences and improve themselves.
There is almost no chances that you fall in this category.
And, of course, not statistically, but more than 90% may fall under 1st and 2nd category.
Utilization of Free Time:
It you want to start a Blog just to utilize your time and share experiences with global audiences, you can start a Blog right now.
And, you should not be worrying about any costs and setup because, your kind of needs can be fulfilled by free Blogging platforms like Blogger, Tumblr, medium, etc.
If you seriously want to start a passive income generating blog or branded blog, the following step by step guide may help you.
The following blog will also help to those who want to start a blog as a passion or for self actualization blogging. But, for non serious bloggers, it may not be helpful.
A Step by Step Guide on How to Start a Blog
The following guide contains a step by step comprehensive guide on How to Start a Blog.
Select Your Niche
Niche is the specific category of your blog on which your blog content is targeted.
Selecting a niche is a prime task, as having a blog is not difficult but maintaining continuity on the same topic is very critical.
Therefore, the niche of the blog should be more of your interest or passion, which could be anything.
Do you have knowledge on any special topic? If you have any special skill, then you may express them via words.
If you think, you have partial knowledge on something then try learning more and start a blog.
But if you have broad knowledge in different subjects or topics then do proper research on which sector the demand (search volume) for your blog is high.
It means you have to think about the topic on which you can give your best and enough time.
Also, it is equally important that the blog you are going to write is searched by a decent number of people.
Buy A Domain
As you are searching how to start a blog, I can assume that you know at least about domain.
Domain is simply an address through which someone can access to any site. The site you are currently reading this blog is also accessed from a domain.
Therefore, the next step to start a Blog is to buy a domain. Generally, a domain name is preferred to match with the niche you are planning to start a blog.
But, it does not necessarily required if you become able to optimize your site for search engine results.
For example, searchenginejournal.com writes blogs on how to optimize a site for search engine. The domain name and the niche is matching for this domain.
Whereas, Neilpatel.com, a name based domain also writes blogs on search engine optimization and most of the time it beats others in terms of SEO.
Therefore domain name can be any. But keep in mind that, domain name should be clean, short as possible and easy to memorize.
The other part of domain is, its extension part. So, what extension do you prefer?There are different extensions available as top level domain.
Mostly, the .com domain is preferred because the leading websites in the world have .com extension and which made people more partial towards .com domain.
And for the same reason, I also prefer a .com as extension and advise you to buy a .com domain.
Therefore, buy a domain that resembles to your niche or any brand you want to make with your blog with .com extension (preferably).
If you select niche that is more focused on country specific topic and language, you can also go for a country code top level domain.
Buying a .com domain will costs you from $8-$11 depending upon registrar.
If you are going to start a Blog on WordPress, you may buy domain and hosting together at an even cheaper rate.
If you are Nepali, you can also get a ccTLD .com.np domain for free. To know more read this blog
If you want to start a blog on Blogger, then you may also fulfill the need of domain by using blogspot subdomain. But, for serious blogging, you will need to buy a domain.
Selection of Platform
To start a blog you will need a content management system using which you will design your blog, publish, edit and update the blog posts and many more.
The most popular platforms for blogging are WordPress and Blogger.
For a beginner, it may be hard to decide which platform to choose for the investment of money and time.
In my opinion, you should consider Blogger only if you do not have investment to get hosting. Because blogger is a Google platform which comes with free hosting.
And ultimately, you have to go for WordPress as it provides more flexibility on how and what you want to do with your blog.
So, in short you have to go for WordPress for Blogging as and when you have few dollars to buy hosting.
If you do not like to go with Blogger from the beginning, you can also get free unlimited hosting where you can start your blog and move to paid plan after your site starts performing.
To learn more about which content management system is the best for you please read another blog, where I have made a detailed comparison between Blogger vs WordPress.
Buy Web Hosting
Before buying a hosting package, you should understand what is web hosting and which hosting plan you should buy for a blog.
Web hosting is a file storage which stores different kinds of data and files such as images, texts, etc.
A simple hard drive storage does not work to host your website. The storage must be from data centre of big companies which are capable of making your site's files accessible from any devices connected to global internet.
The hosting service stores data and files and makes available to visitors when accessed from that particular domain where it is connected through DNS setting.
If you have ever visited the websites of hosting service providers like Bluehost, Hostinger, Siteground, etc. you may have probably seen different hosting plans.
Hosting companies offers Shared, Virtual Private Server (VPS), Managed WordPress, eCommerce, Dedicated, etc.
The price depends on features and capacities of each class hosting plans.
To start a blog, a beginer can always go for shared hosting plan. shared hosting can handle a starter blogging site easily.
A blog hosted on shared hosting plan can normally handle monthly traffic of 10,000-20,000.
When you start getting a high traffic or completely consume the storage, you may upgrade to higher plan or migrate the site somewhere.
So, as a beginner, I suggest you to buy a shared hosting plan either from Hostinger or Bluehost.
Installing WordPress on Your cPanel
After buying a suitable hosting plan you will need to install WordPress or any content management system on your site.
Here in this blog I will be guiding you about WordPress CMS.
You can read this blog to learn how you can install WordPress on cPanel. In case if there is no auto installer is provided by the hosting service provider, you can also install WordPress manually.
 Connection Your Domain With Blogger
As mentioned earlier, you can also use blogger to start a blog. If you are seriously planning to start a blog on Blogger, then sign into Blogger with your google account and start one with the BlogSpot subdomain right now.
If you already own a BlogSpot site and wish to connect the custom domain, you can also do that. To connect a domain with blogger, please follow the guide to connect a custom domain with Blogger.
The Must Have Initial Setup Required After Installation of WordPress 
Here is the must have initial setup required after installation of WordPress.
Basic Initial Setup Required After Installation of WordPress

Site Name and Tagline
Discourage search engines From Indexing the Site
Delete Sample Page and Post
Deleting Unnecessary Plugins
Deleting Unused Theme
Make Permalink SEO Friendly

Advance Initial Setup Required After Installation of WordPress

Activate Akismet Antispam
Installing Classic Editor
Install JetPack
Install SEO Plugin
Install Backup Plugin
Make Single / One URL (Redirect)
Customize Your Blog
After installing WordPress or connecting the domain with Blogger, you may get a site with basic design to show the post and basic header. It is important to have an attractive design of the blog.
Therefore, you will need to customize the site immediately after you start a blog. The design of your site on Blogger is fully dependent on the template you use. The design of your WordPress blog is affected by the template as well as the templates. You can install the template from appearance option of your WordPress site's dashboard.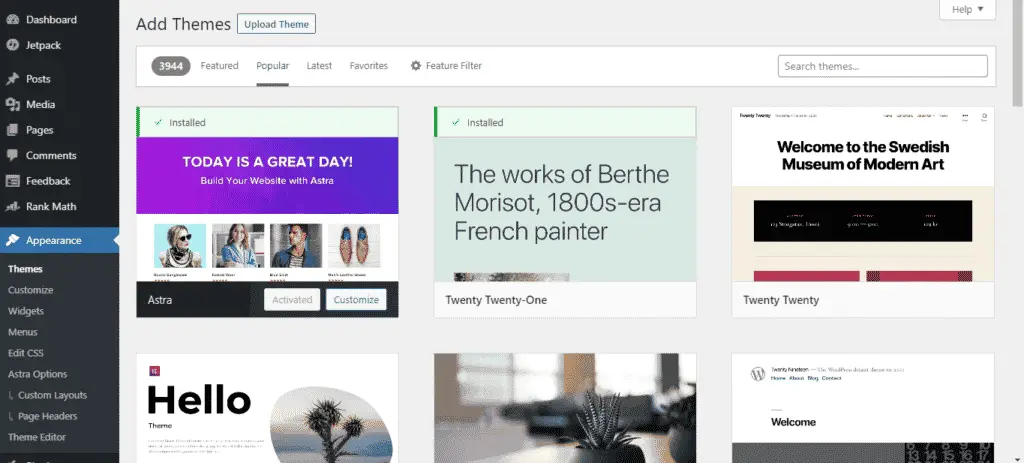 Best Templates to Start a Blog on WordPerss
Initially, a default WordPress template gets installed on your blog, which is twentytwentyone which is best and lightweight. But, it lacks in terms of customization. Therefore, here is a list of really best templates with a lot of customization options available for free.
Astra
Astra is lightweight and fast WordPress with highest number of installation from third party developer. You can use it for free and get lots of features for customization and appearance of your site.
Blocksy
Blocksy is another customizable WordPress template. It is also a lightweight but slightly heavier than Astra. You can use it for free and it offers more customization options than any other free templates in the WordPress depository provides.
GeneratePress
GeneratePress is another free template which is even lighter than Astra and customizable for any appearance. The reason of ranking it down is the footer credit. It doesn't offer custom footer copyright note. However, you can remove or replace the footer copyright note by editing the source code or using plugins.
OceanWP
OceanWP is like ocean in terms of customization. But, it is more focused on ecommerce sites. However, you can use it to start a blog as well.
Bogger Templates to Start a Blog
Blogger is exclusively for blogging site. Therefore, you will only get some basic templates for it. However, there are some templates available for free and some can be purchased or downloaded for free from third party site.
Here is the list of some templates I personally found to be lightweight and seo friendly.
MagOne
Ultralite
Freebify
UltraMag
That's all. You can now publish your post and pages.