If you are planning to get web hosting in Nepal, you may probably have heard about Babal Host. It is one of the most popular hosting provider in Nepal with good customers reviews. I have been using the same since last year. And have not faced any issue from the hosting side during this period. That was the reason that forced me to write a detailed review on Babal Host.
So, let's begin Babal Host review covering every aspects that one will prefer to know about before buying hosting service in Nepal.
Review Note
This review is neither sponsored by Babal Host for positive review nor sponsored by competitors for negative review. It is fully written with my own experience of using it.
This review mainly focuses on the Shared hosting offered by Babalhost. It is not fully possible to review each and every products offered by them. And this may contain affiliate link referring to Babalhost. If anyone signup and subscribe any hosting plan will help me to generate a small commission and that will not increase the price you have to pay.
Babal Host is that hosting provider, from where I started serious blogging.
About Babal Host
Babal Host is not an old company in market. But they have gained popularity within a year with their better service. According to the companies statement "frustration of not being able to find a suitable hosting environment gave birth to Babal Host ". This is the reality. There are many hosting providers in Nepal but, they are not offering what we are expecting.
Babal Host is a customer focusing service prover rather than fully profit making. To accomplish this, they have added automation system to handle even the complicated of works which other providers still do it by hands. Denial of service attacks, malware tracking and patching, deployment of new servers are some of the activities which their automation process and advanced software is all able to handle.
They have adopted a completely server-less configuration and make use of public clouds fueled by Digital Ocean, Google Cloud, AWS, and Alibaba. These providers have already spend billions of dollar in building their architecture. Making use of the services they've already put out, they can rather focus on providing the best shared, reseller, and dedicated web hosting platform possible to you.
You Can Trust Babal Host
It is a legally registered business.
Babal Host is a brand owned and operated under Tyro Soft Pvt. Ltd. It is registered with the following details.
Registered at Office of Company Registrar and IRD with the following details:
Company registration No.: 207169/075/076
Company Name: Tyro Soft Pvt. Ltd
PAN/VAT Number: 606592750
Location: Tyanglafat-1, Kirtipur, Kathmandu
Registered at local Ward withe following details:
Certificate No.: 356/075/076
Ward No.: 01
---
Some Statistics of Babal Host
| | |
| --- | --- |
| Number of Users | More than 2000 |
| Number of Users with at least one product | Around 70% |
| Numbers of Domain Registered | 1850+ |
| Number of Sits Hosted | More than 4800+ |
Babal Host Overview
The following table represents the overall and key things you will get with Babal Host.
Criteria
Comments
Hosting Plans
Shared, WordPress, Python, Node.js, Cloud Server, Reseller
Uptime
99.9% Uptime Guaranteed. Remedy for failure to maintain.
Backup
The offsite backup is available once every two days.
Speed
(http response)
Interestingly it is below 400ms in shared plan.
Free Domain
Not Included in any of plans available right now.
SSL Certificate
cPanel issued SSL Certificate
Migration
Migration Service is free with ticket. (Within 4 hours)
Support
Very quick and responsive support with live and ticket.
Supported Apps
WordPress, Joomla, PrestaShop and more than 200 other
Pricing and Renewals
Price Starts from NPR 1356 including VAT (3 years subscription). Fixed Renew fee.
Moneyback
Moneyback is guaranteed for 30 days of activation of service.
Upgrade
You can upgrade at any time
Overview of Babal Host
Uptime and Loading Speed
The guaranteed uptime is 99.9% for most of their plans. And this term does not cover the outage caused by scheduled maintenance.
I am using Babal Host for more than a year. During this usage, I have never faced any server outage that lasted more than 15 minutes except for one which was approximately for 50 minutes during the server maintenance.
Excluding these major server outage which were scheduled, I faced very few outages which gives almost 99.973% of uptime. Therefore, we can say BabalHost offers more than 99.95% of uptime.
Talking about speed, in one of my website which does not contain any kind of advertisement has an average http response time of 200ms. This is the least time taken by the browser to contact with the server. This means, if you have a properly made website, you will not have to worry about loading delay because of the server response time. The action will start as soon as someone hits your sites url.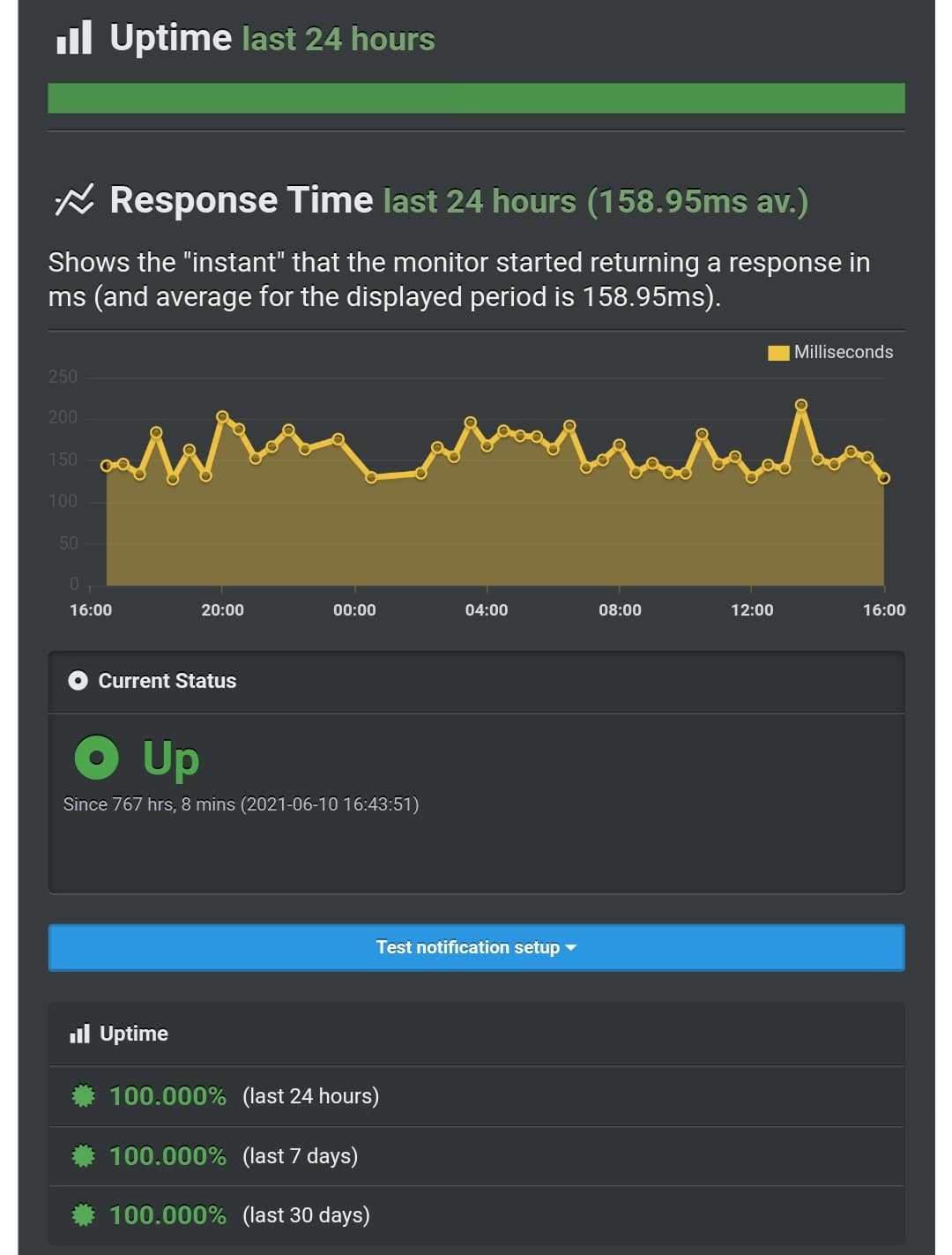 Support – Live Chat and Ticket
Babal host probably the best in terms of support. They have total of 8 staffs for live and other chat support. You can ask live for general inquiries related to sales and general problems related to the service.
For custom hosting plans, problems in the panel, migration of the cPanel, change in domain etc. you can use the ticket system which can be used by the existing users as well as non-existing.
SSL Certificate
SSL certificate is essential for your visitors security. It also impacts on user experience and search engine optimization. A site without ssl will not rank at top as easily as one with SSL.
If you buy SSL certificate, it will cost money. But, with Babal host, you can get free ssl certificate for any number of websites you host on their server. And such ssl will be valid for lifetime.
Back Up Service
Babal Host promises to provide twice a day offsite automatic backup service in the sales page. According to them, it is retained for 30 days that means 60 backup files are saved. But, in service this is not as promised.
The auto backup is available once every two days and the retained backup files are 60 in numbers. It means, you can have the backup files of last 4 months.
Talking about the environment, the backup service is offsite backup powered by JetBackup which stores the incremental backup files in the remote location. In addition to the auto backup, you can also create real time backup for whole cPanel or certain files or database only and download.
Free Site Migration
Babal host offers free website/ cPanel migration service for those who are migrating from another server. The service is free of cost and available for any plans. Simply, open a ticket with the login credentials of existing cPanel and they will do rest of the work.
Getting Domain with Babal Host
Beside hosting, you can also buy domain from from Babalhost. Babal Host also provides the best service for registration of Domain in Nepal. According to the data supplied to me, Babal Host has more than 2000 active domain registered.
In terms of getting the domain, I liked the pricing. The price is fixed for first registration and renewal and this includes all taxes. For example, you can register .com domain for NPR. 1100 for multiple years.
Available Hosting Plans and Pricing
There are variety of hosting plans available at Babal. The choice depends upon you and the need of user. There is a general shared plan for general use such as blogging and making simple websites. Dedicated WordPress hosting is available for blogging and other website made with WordPress. For developers, there are Python hosting and Node.js as option.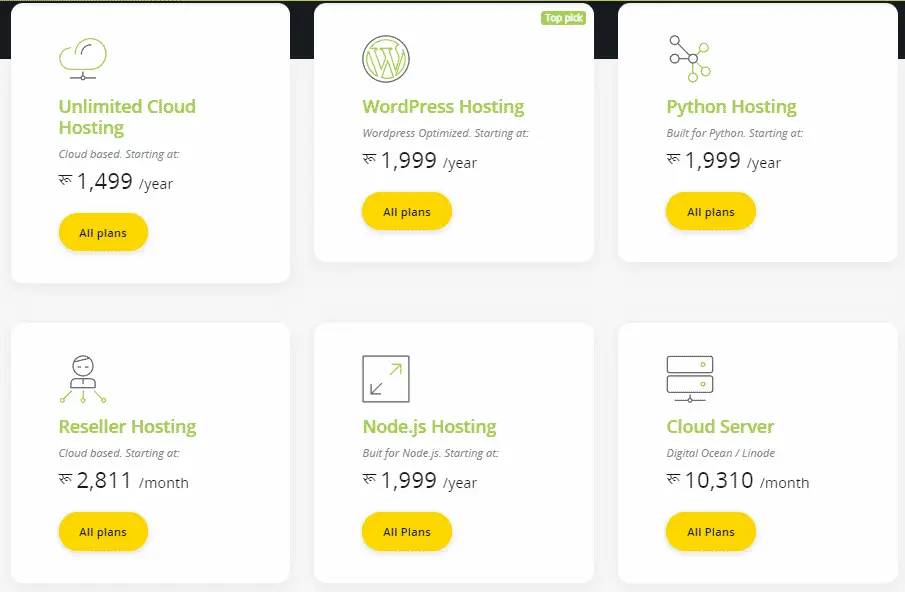 Similarly, for those having huge websites and software, they also have cloud server powered by Digital ocean. Not only that, they also have reseller plans, which you can use and start your own hosting business or manage your clients websites at cheaper rate.
Money Back and Upgrade
The money back term applies for 30 days. I think this period is enough for testing the service and make decision. The refund on usage period basis is not applicable, if you are no more interested in using this service after 30 days term.
However, if you are having resources limitation problems in lower plans configurations, you can ask to increase or add some extra features my paying extra amount. Or, you can upgrade to different or higher plan.
In case of upgrading the plan, the service you own will be valued on number of days basis. So, you only have to pay remaining amount for upgrading the service.
Referral Program
Babal Host also offers referral program or affiliate program. In this program, each user will get an unique referral url. When user sign up through the link and makes purchase of any hosting service, you can earn 5% referral commission. This can be used to purchase or upgrade the service or withdraw as cash.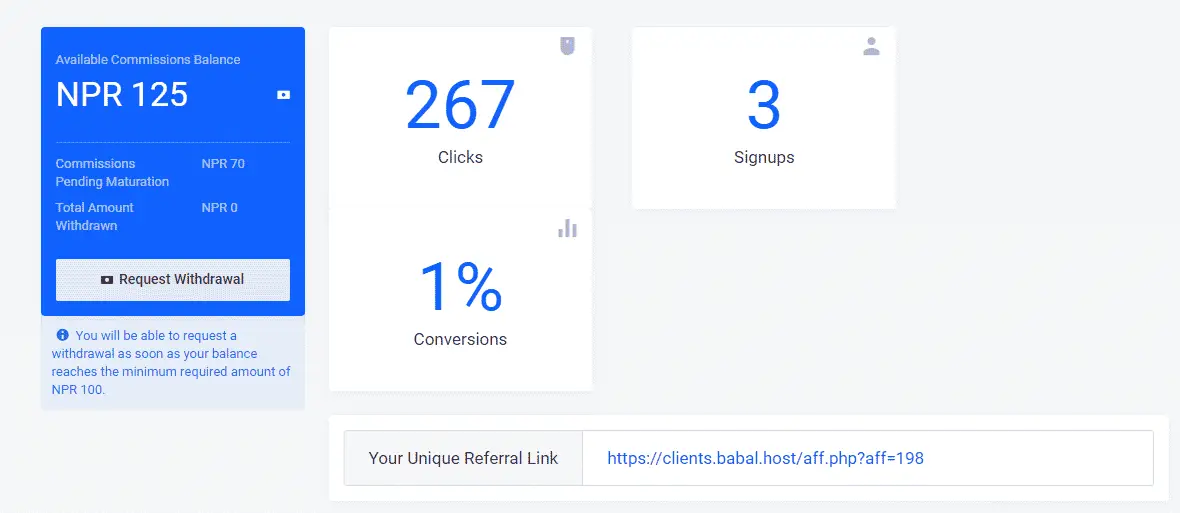 ClosIng Lines
That was all what I thought is enough to cover about Babal Host. If you are interested to know in depth about the service, please let me know in the comments section below. And I will try to cover these aspects too.
Also Read: